Brisbane Re Roofing Promotion – $500 Free Roof Insulation
$500 Free Roof Insulation With Every Re-Roofing Job
We are excited to announce our new re roofing promotion for Brisbane residents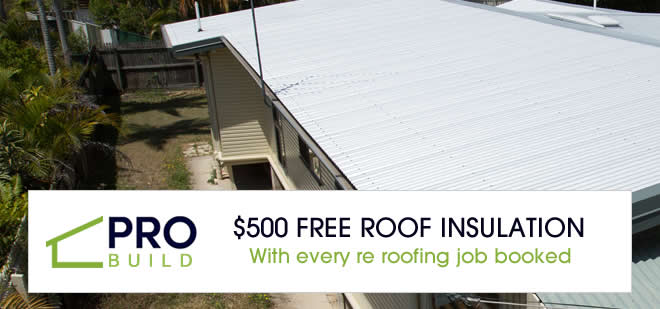 We are giving $500 of free roof insulation for every re roofing job booked for a home or commercial property. The offer is open to both residential home owners and all commercial and industrial buildings.
We find that most customers who need a re-roof often require insulation to replace the old material. Our new special allows everyone to pocket the savings and take advantage of having brand new roof insulation installed. Many property owners don't realize that the insulation we use is made of 70% recycled glass and help reduce green house gas emissions.
Other advantages include:
In house Climate control – Helps keep heat in during the winter months and slows the flow of hot air during the warm Queensland climates.
Energy Efficiency – Save On Electricity Bills – Roof insulation can reduce electric bills by up to 30%. Both your heaters and air conditioners can operate on a lower level whilst maintaining a comfortable temperature.
Environmentally friendly – By reducing your energy consumption you are also reducing the consumption of fossil fuels which adds to the green house effect.
Why Install New Roof Insulation?
If your insulation has been in your roof for over 5 years then it can settle or compact and become less effectiveness in controlling climate. If it is less then 50mm in thickness then it is probably time you got a top up.
Insulation R Values
R values are used as a guide to determine what is recommended for different environmental climates and building types. The recommended R Value for Queensland homes is around 4.1 for roofs and 2.8 for walls.
Insulation Types
We provide Batts, Blanket and board insulation. We can also offer loose-fill which is pumped or blown in.
Insulation materials consist of:
Natural or glass wool
Rock wool
Polyester
Glass wool with a reflective foil blanket
Rockwool with a reflective foil blanket
Our Re Roofing Services
The re roofing and free insulation offer is available on all re roofing jobs on a standard 3 bedroom house or larger. We offer a range of Colorbond® metal roofing products which are available in a wide variety of colours which can suit any home. Metal re roofing is the strongest and most durable way to re roof your house. Colorbond® is one of Australia's leading suppliers of metal roofing solutions and we use and recommend these products due to their durability and value for money. Re roofing jobs start from around $6000 and we can customize a quote for you within 24 hours.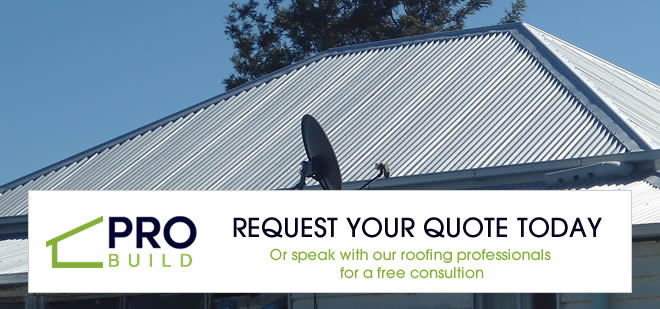 If you would like to take advantage of our promotion or would like to discuss your project please call our Brisbane office on 07 3102 3206 and speak to one of your friendly contractors. We offer free advice and recommendations customized for your property.
Click here to contact us for more information.