New Roof Replacements
Professional Roof Replacement Services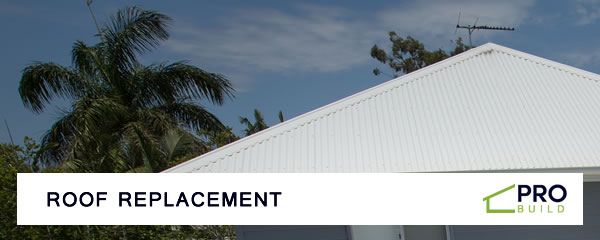 Pro Build Roofing offer a complete roof replacement services for residential home owners and commercial buildings in Brisbane Northside and Southside.
Replacing your roof serves many purposes. It can increase the value of your property and also add aesthetic appeal to your entire house. There is also an increase the in level of comfort for you and the whole family. Our replacement services are cost effective and performed by experienced contractors. Not to mention we are Brisbane locals!
Material Selection:
We provide a range of solutions including:
Cement Tiles
Terracotta Tiles
Metal Roofing – Using Colorbond Steel
Metal Roof Replacements:
Metal roofs have become more and more common in recent years; this is due to the fact that metal has many benefits. These include its resistance to fire, corrosion, and even the worst storms Australia can dish out. Metal roof replacements are durable and will last well over 20 years with proper maintenance and provide good insulation properties.
Metal roofing can have the same appearance as tiles and the Colorbond range gives you the option of choosing nearly any colour you desire.
Tiled Roof Replacement
There is a wide range of tiled roofing options. From traditional terracotta tiles to cement tiles and beyond. We can replace any kind of tile you prefer.
Why Choose Pro Build Roofing?
Qualified and Licensed Contractors
Ten Years Experienced
Warranty on workmanship and products
Reliable service
Brisbane Locals
Service Locations
Brisbane Northside
Brisbane Southside
West Brisbane
Ipswich
Toowoomba
If you have any questions or would like to discuss your job or ask advice feel free to contact us.
Phone our team on 07 3062 7775
If you we look forward to meeting you soon.