Re Roofing Professionals
Qualified Re-Roofing Contractors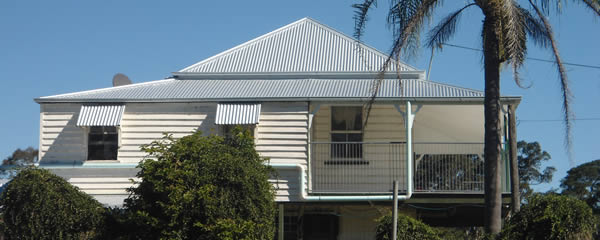 Pro Build Roofing is a Brisbane based re roofing contractor. We provide a range of metal re roofing services for home renovations, new homes, investment properties and commercial buildings. Our contractors are all professionally qualified with over 10 years experience. We deliver high quality results on time and on budget.
Is your roof looking tired and in need of a replacement? It may be time for a re roof to replace the old system and that's where we come in. The team at Pro Build Roofing Brisbane are here to bring life back to your old roof at an affordable price.
Why You Should Consider Re-Roofing Your Home
Functional Considerations
It is hard to keep trying to match old tiles with new ones. Re roofing removes this problem, instead we install a brand new metal roof that will last for years, bring value to your home and provide energy efficient climate control throughout your house.
Leaking roofs are notorious for causing damage to the interior of any home. The best way to deal with a leaking roof in most cases is to replace it.
Cracked tiles and pointing can cause other structural issues and be the reason for leaks and water damage.
Appearance Considerations
Selling your property- An unsightly roof is hard to sell. Replacing it can add instant value to your home and enable you to sell your property faster.
Renovating – When you are renovating your home, it makes sense also to look at the condition of the roof and consider re roofing as an option to enhance the visual appeal.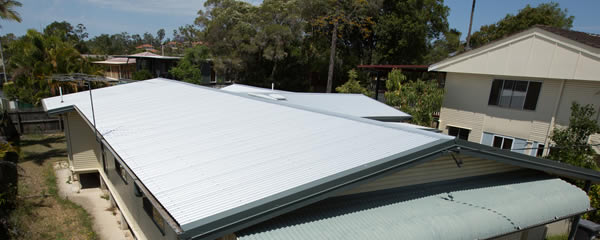 Inspecting Your Roof
Inspections allow us to determine the condition of your roof and give you advice on the best re roofing solutions available. When inspecting your roof, some of key areas we will inspect are:


Cement mortar bedding; the older the bedding, the more thorough the inspection should be.
Down pipes gutters and flashings will also be inspected.
Inspection should be done on tiles to spot any that have been displaced or cracked. Any debris that has built up within the tiles should be removed.
Your ceiling should act as a strong insulation against the elements. Inspection should be done to determine if it should be re-insulated.
Does your home have sarking? If not it may have to be installed.
Damp or hot air can be harmful to your health. The roofing specialist needs to inspect the ventilation to ensure the system in place is enough.
The Re Roofing Process
Safety First – Safety rails will be installed around the roof perimeter to prevent the tilers from falling. It will also keep your family from danger.
Tile Removal – We will remove the ridge and any old tiles.
Roof Inspection – The battens on the roof timbers should be inspected to ensure that they are in good condition.
Sarking Installation – While this step is optional, it ensures that your home has insulated so up to 95% of the radiant heat passing through the roof is reflected back.
New Battens Installed – New battens are installed upon the recommendation of our roofing experts to prepare the area for metal sheets.
New Metal Loading –  A conveyor belt system will be used to remove old tiles and bring up the replacement metal sheeting.
Installation – Sheet metal installation is done starting from the gutter line upwards in sequential order.
Fixing  – We will securely fix each sheet in perfect position.
Finishing Touches – All unused materials are removed, and the safety rail is dismantled.


Our Guarantee
All of our products are backed by a strong manufacturers warranty, we also provide a workman's guarantee to ensure that your roof is safe for years to come. Our index page outlines our promise to provide the best possible services to our customers.
Service Locations
We can provide re roofing services to the following locations:
Toowoomba
Ipswich
Sunshine Coast
Brisbane West
Brisbane North
Brisbane South
Gold Coast & Tweed Heads
Contact the team at Pro Build Roofing today for advice and experience the difference!