Colorbond Roofing

If you are having a new home designed, or if you need a replacement roof on your existing property, Colorbond metal roofing is one of the popular choices for Brisbane home owners today. Not only is the rugged steel material durable, it also meets and exceeds the minimum requirements for building standards, so you do not have to worry about damage, or the roof collapsing with inclement weather. Further, you choose the color for your new steel roof, allowing you to customize, and design the ideal finish for your home.
The Colorbond Advantage
For over 17 years, the Colorbond steel material has undergone rigorous testing, to guarantee the most durable quality finish possible. The result is a longer lifespan for your roof. A metal roofing structure that is capable of withstanding the toughest weather conditions, and it has less of a negative impact on the environment as well.
In addition to roof materials, home owners can choose from a wide range of Colorbond products to have installed in the home including:
Guttering
Fencing
Sheds and Garages
This gives you the peace of mind knowing you can match different areas of the home at any stage. With the durable finish, weatherproof exterior, and varying colour selection, you are bound to find the perfect balance.
Design ideas for any home
With the Colorbond steel line of products, you can completely revamp your exterior. We can offer a free consultation to help you choose the best solution for your property.

Colorbond roofs provide a number of benefits for home owners. In addition to adding a a fresh new look, it comes with a full manufacturers warranty.
Colour selection
You do not have to limit yourself when it comes to colour choices. In fact, the dull steel finish is not the only option available to you if you want this durable material installed.
Choose a specific colour to match the colour of the home, and decor.
Have custom colours made.

With Colorbond products your color choices are almost limitless. Plus the metal is completely durable and won't be damaged easily by sun or other harsh weather conditions.
To view the entire Colorbond range please visit their website here: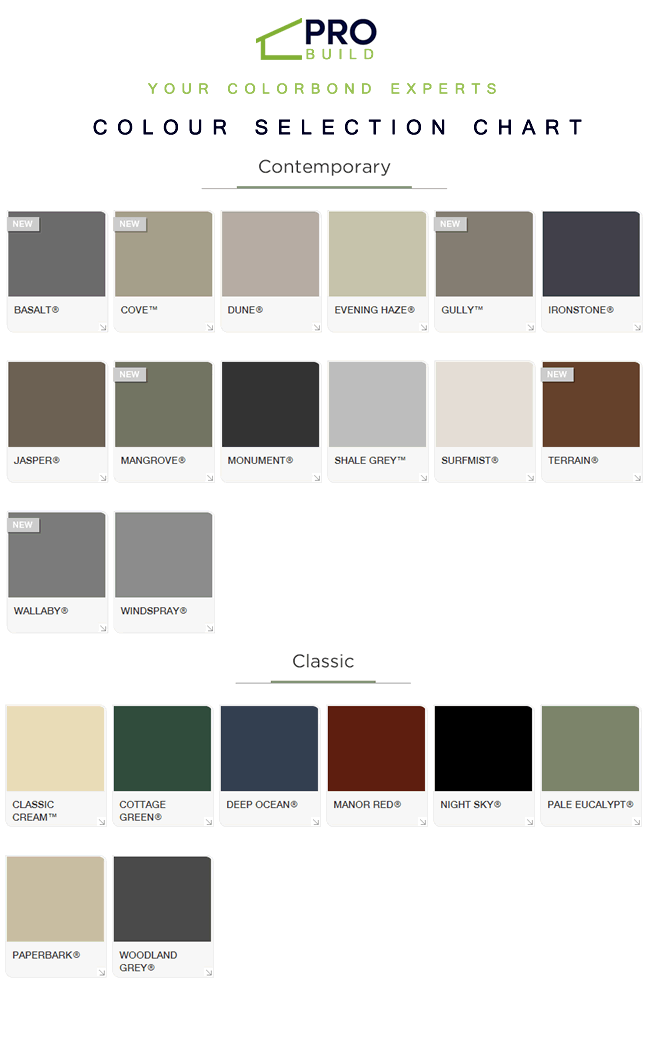 Service locations
We offer Colorbond roofing services through Brisbane including:
Brisbane Northside
Brisbane Southside
Brisbane West
Ipswich
Toowoomba
Sunshine Coast
Gold Coast
Tweed Heads
For a no obligation free quote you can contact our friendly team today.
.