Roof Repairs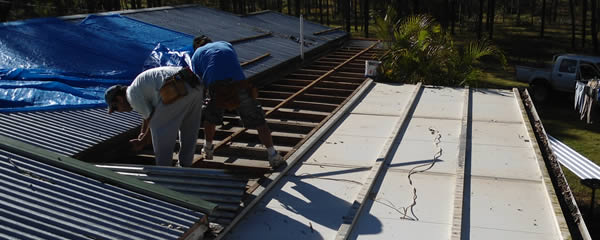 Repairs on Leaks, Cracks and Deterioration
Notice: Please note we are currently unable to perform any roof repairs. Sorry for the inconvenience.
Pro Build Roofing perform a range of roof repairs on homes and commercial buildings throughout Brisbane and surrounding areas including Northside, Southside, Western suburbs, Toowoomba, Ipswich, Sunshine Coast, Gold Coast and Tweed Heads.
Our roofing contractors are fully qualified and insured to give you complete peace of mind.
Our roof repairs service offers properties owners a cost effective solution to fixing leaks and other damage that can occur to your roof over time. Your roof is prone to damage, broken or chipped tiles and leaks are the most common issues we see. To preserve the longevity of the structure you may need to get roof repair work completed.  We provide a well priced and easy solution get get the job done right the first time.
Repairs can fix the following issues:
Broken / chipped tiling
Cracked or damaged skylights
Missing fasteners
Corrosion on guttering or metal panels
Storm damage
Paint decay or fading
Leakages
Our roof repairs specialists provide a full inspection of your roof or guttering system to detect any faults and advise on the best solutions and recommendations for repairing the damage.
We focus on three key points.
Quality materials
Superior workmanship
Value for money
We can repair the following:
Metal Roofing
Tiled Roofing
Fascias & Guttering
Downpipes
Skylights
Asbestosrelated issues
Insulation
Backed by a team of passionate roofing contractors, we guarantee that you will get complete satisfaction from our services. Our staff are friendly and customer focused and ready to offer free advice or answer any questions you may have regarding the condition of your roof.
Service Locations
Brisbane Northside
Brisbane Southside
West Brisbane
Ipswich
Toowoomba
When you choose Pro Build you are assured to get value for money and honest advice. Our roof repairs also come with a written guarantee, giving you the peace of mind for years to come.
For more information or free advice contact our friendly team on 07 3062 7775.
We look foward to speaking with you soon!