Expert Roof Restorations
Restore Your Old Roof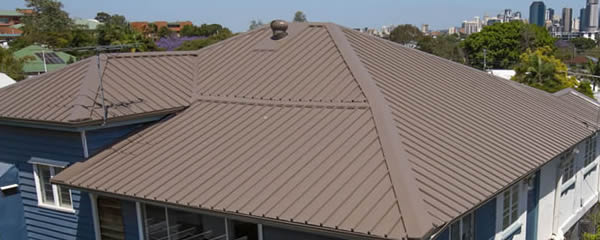 We offer a range of affordable Roof restoration services throughout the South East Queensland region. Our service gives you a cost effective way to restore and bring life back to your property. Our team has over 10 years experience in restoring and replacing roofing systems throughout Brisbane Northside and Southside.
If you have significant damage, roof restorations offer you an affordable way to fix the issue without having to completely replace or re-roof your property.
Practical Solutions to Common Issues
We perform an inspection to identify issues that are typical in most homes. Some of the services we use include:
1. Cleaning
If there is an accumulation of moss or green algae in your roof, then it may just require cleaning to remove the debris. For tiled roofs, it is best to use a stiff-bristled brush and some water with bleach instead of a pressure washer. This method ensures there is no damage to the tiles. Properties with a metal roofing, pressure washing may be implemented for efficient cleaning.
2. Replacement of Old Flashings
Your roof contains vinyl or metal components that are usually installed around the chimney or other uneven surfaces. These are designed to prevent leaking, so it is important to keep flashings in excellent condition. Once the flashing gets rusty, our roof restoration contractors will scrape away the rust and sand the area when necessary.
If there is loose debris, it can be removed with a metal putty knife. Once the flashing is dry, a rust converter is then applied, followed by a coat of latex paint. Roofing cement is also placed to the flashing's edges, which seals in the area and prevents leaks.
3. Restorative Coating for Leaks
For metal, concrete or terracotta tiles, restorative coating is applied to prevent leaks or damage. Initially, a primer is used to coat the leaking area with a protective component. It is recommended to use a special adhesive to prevent leaks. When necessary, our specialists will apply coating intended for emergency leaks, or a type of coating intended for protection and soundproofing.
4. Replacement of Damaged Tiles
If your roof has damaged tiles you can have them replaced instead of complete replacement. We will perform an inspection and look for tiles that require replacement. Signs of damages include dry and brittle appearance, cracks, and deterioration. Buildup of granules in the gutter can also indicate damage.
The Roof Restoration Process
Our experts generally perform the following:
High pressure cleaning for moss and dirt removal
Rebedding of the ridgecaps once the old mortar is removed
Eliminating any debris prior to the application of sealants
Applying the primer coat to seal the cement or terracotta tiles
Weatherproofing with a primer coat and two coats of colour sealants
Our team can improve the quality and strength before it's too late.
Consult the Experts
Having roof restorations can enhance your home's structural integrity while weather-proofing your entire property.
Servicing Locations:
Brisbane Northside
Brisbane Southside
Western Suburbs
Toowoomba
Ipswich
Sunshine Coast
Gold Coast
Tweed Heads
For questions, advice or to request a free quote please fill out the form or phone 07 3062 7775